Breakfast service at Private Living Kufstein
...many culinary possibilities
As our guest you have numerous possibilities to enjoy breakfast. Our concept is designed very flexible so that you can make use of our large and fully equipped kitchen and prepare your meals there. You can store your groceries in the refrigerator and you can enjoy your meals at our cozy living room with dining table. A coffee machine (incl. 4 coffee capsules, tea, milk and sugar) as well as an electric kettle round off our amenities for you!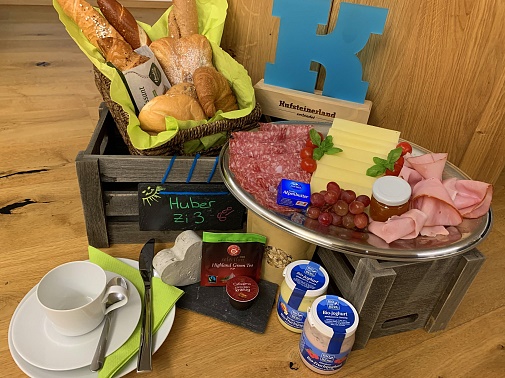 We are happy to offer you one of our fresh and high quality breakfast in different variants, which we personally bring to your own preparation in your apartment.

Order your breakfast online in conjunction with your room reservation as an additional service on our website or order it on site individually and the day before by phone or email.

Bread and pastries are freshly prepared for your daily breakfast in our house and comes from the traditional bakery Haubis in Lower Austria.
Breakfast box
| | | |
| --- | --- | --- |
| Esther´s box | Coffee, tea, 1 x Bio-Semmel, 1 x Kornspitz, a portion of butter, jam, ham & salami and cheese | EUR 8.90 p. pers. |
| Alex´s box | Coffee, tea, 1 x grain pastry, a portion of butter, jam, fruit yogurt in the glass, portion cereal, milk 0,25l and apple | EUR 8.90 p. pers. |
| Lisa´s box | Coffee, tea, 1 x Bio-Semmel, a portion of butter, jam and Manner Schnitte | EUR 5.10 p. pers. |
| Leni´s box | Coffee, tea, 1 x Croissant, a portion of butter, jam and apple | EUR 5.10 p. pers. |
| Children box | Serving cocoa, milk 0,25l, 1 x Bio-Semmel, a portion of butter, jam and Knoppers | EUR 5.10 p. pers. |
Optional & extension
Bio-Semmel | EUR 1,00
Kornspitz | EUR 1,50
Butter-Croissant | EUR 1,90
Portion of ham (85 g) | EUR 3,00
Portion of salami (65 g) | EUR 3,50
Portion of cheese (70 g) | EUR 3,50
Portion of müsli (100 g) | EUR 2,30
Fruit yoghurt in glass (150 g) | EUR 1,80
Portion of butter (20 g) | EUR 0,60
Portion of jam (28 g) | EUR 0,80
Coffee capsule for a cup | EUR 0,80
Teabag for a cup | EUR 0,40
Manner Schnitte | EUR 1,90
Knoppers (25g) | EUR 0,90
Portion of cocoa | EUR 0,80
Milk 0,25l | EUR 1,50